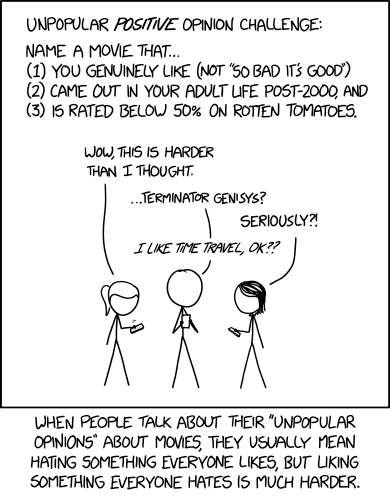 Challenge accepted. I got three, though none are below 40%.
The market isn't so hot for Iraq war movies. And it's nearly impossible to adapt such an introspective novel into film. I still respect the effort and its outcome, even if all references to the normal distribution got left out of it.
I spent a lot of time trying to identify the exact point at which I noticed a change in Murph, somehow thinking that if I could figure out where he had begun to slide down the curve of the bell that I could do something about it. But these are subtle shifts, and trying to distinguish them is like trying to measure the degrees of gray when evening comes. It's impossible to identify the cause of anything, and I began to see the war as a big joke, for how cruel it was, for how desperately I wanted to measure the particulars of Murph's new, strange behavior and trace it back to one moment, to one cause, to one thing I would not be guilty of. And I realized very suddenly one afternoon while throwing rocks into a bucket in a daze that the joke was in fact on me. Because how can you measure deviation if you don't know the mean? There was no center in the world. The curves of all our bells were cracked.
(From The Yellow Birds by Kevin Powers)
Two actors with (essentially) the same first name and over 50 years of age difference (Anthony Hopkins 1937-, Anton Yelchin 1989-2016) make this Stephen King adaptation well worth watching.
He made another circuit of his room, working the tingles out of his legs, feeling like a prisoner pacing his cell. The door had no lock on it—no more than his mom's did—but he felt like a jailbird just the same. He was afraid to go out. She hadn't called him for supper, and although he was hungry—a little, anyway—he was afraid to go out. He was afraid of how he might find her… or of not finding her at all. Suppose she had decided she'd finally had enough of Bobby-O, stupid lying little Bobby-O, his father's son? Even if she was here, and seemingly back to normal… was there even such a thing as normal? People had terrible things behind their faces sometimes. He knew that now.
(From Low Men in Yellow Coats by Stephen King)
Sure, it's not as good as the first film in the series (which does not qualify for the challenge, scoring 65% on RT), but a major improvement on the mindless zombie chases of the second part. I like to think of it as a parable illustrating ethical issues in public health… allowing for the customary movie-science vs actual-science differences.